Happy Shiner BBQ Week! Our friends at Shiner Bock gave us EXCLUSIVE tips on the must visits in Austin when we can finally get back to traveling.  Enjoy their hot tips below.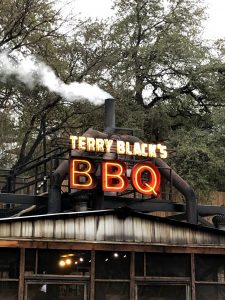 Best BBQ:
Terry Black's BBQ
1003 Barton Springs Rd, Austin, TX 78704
terryblacksbbq.com
Born and raised in Lockhart, Texas, Terry Black passed down generations of barbecue knowledge learned from his experience in the Lockhart BBQ scene. His twin sons Michael and Mark Black bring their very own style of central Texas BBQ from Lockhart to Terry Black's Barbecue in Austin and now to you and your family to enjoy! Choose from slice brisket, beef or pork ribs, chopped beef, sausage, or enjoy it on a sandwich. Be sure to wash it down with an ice cold Shiner Bock or Light Blonde. If there is room left over, try the peach cobbler, pecan pie, or banana pudding.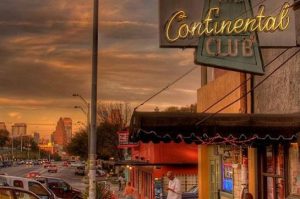 Best Live Music:
The Continental Club
1315 S Congress Ave, Austin, TX 78704
continentalclub.com
Rockin South Austin Since 1955
The legendary Continental Club opened its doors in 1955 and celebrates over 60 years as one the oldest continuously running clubs in all of Austin. It started out as a swanky supper club, then became Austin's first burlesque club and later became a working man's blue collar bar on South Congress that opened every morning at 7am and eventually grew into one of the premier live music venues presenting bands like Stevie Ray Vaughan and Double Trouble, Paul Ray and the Cobras, Joe Ely, Bill Carter and the Blame and many more onstage back in the late 70's thru the early 80's. It continued from '83-'87 as a hotbed for new wave/punk and rock n roll with bands like Social Distortion, The Replacements, The True Believers and many others performing. In 1987, the club was renovated and refurbished to make it as close to it's original 1950s version as possible, including the restoration of the original murals that you see on the walls today. From '87 to the present The Continental Club, now a historical landmark is the premier roots rock, traditional country and blues, rockabilly and garage rock club in the country. Roosevelt "The Grey Ghost" Williams kicked things off New Years Eve 1987 and continued to play regular happy hours. Ernie Bowser, TD Bell and the Blues Specialists followed suit with Friday happy hours and are still playing after 3 decades with the next generation onstage with original member Mel Davis. Everyone from Junior Brown to Link Wray to Robert Plant have graced the stage. Folks like Bill Frisell, Southern Culture on the Skids, Alejandro Escovedo, Barfield the Tyrant of Texas Funk, Wanda Jackson, Toni Price, James Burton, Dale Watson, James McMurtry, Jon Dee Graham and the country super group Heybale call The Continental Club home.

Best Breakfast:
Easy Tiger
709 E 6th St, Austin, TX 78701
easytigerusa.com
Located in Austin, Texas, Easy Tiger Bake Shop & Beer Garden features artisan bread, locally roasted coffee, locally cured meats, full bar, and more than 30 local and boutique draft beers. Our in-house bakery offers a selection of Old World hearth breads, European-style pastries, and signature soft pretzels— all baked fresh daily. Our sausages and smoked meats are locally produced with Easy Tiger's original recipes.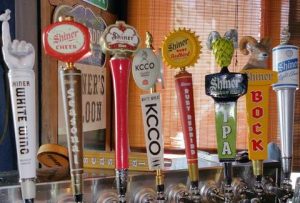 Best Hidden Gem watering hole:
Shiner's Saloon
422 Congress Ave D, Austin, TX 78701
shinerssaloon.com
Shiner's Saloon is THE neighborhood bar of downtown Austin offering live music every night, 32 beers on tap including every Shiner beer available, elevated bar grub and a fantastic view of the Austin skyline from the Rooftop Patio. Whether you are looking for an authentic Texas experience or the place where everyone knows your name, you will feel right at home in this rustic bar and restaurant located just down the street from the Texas State Capitol.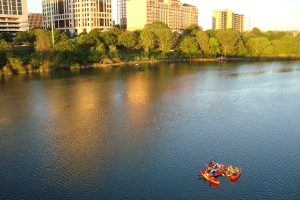 Austin Kayak Tours
austinkayaktours.com
Choose from Austin Skyline Tour, Bat Bridge Kayak Tour, Serenity Tour, Paddleboard Tour, or Sunset Kayak Tour. Enjoy an afternoon or evening on Lady Bird Lake for a unique experience. Tours last from 1.5 to 2 hours. Tour and rental location can be found behind the Cidercade parking lot: 600 E. Riverside Dr, Austin, TX 78704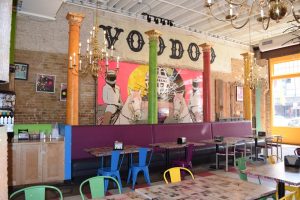 Best Guilty Pleasure:
Voodoo Donuts
212 E 6th St, Austin, TX 78701
voodoodoughnut.com
Voodoo Doughnut is the brainchild of old friends and entertainment-minded Portlanders Kenneth "Cat Daddy" Pogson and Tres Shannon. In 2000, they decided to embark on a shared entrepreneurial venture – something that combined quality hospitality with their daring do-it-yourself brand of show business. Research revealed that downtown Portland lacked a single doughnut shop, so in 2003 they rented a hole-in-the-wall storefront scrunched between two Old Town nightclubs, joked to friends and family about being bent on "world doughnut domination," and opened Voodoo Doughnut. Their initial pastry offerings were a mix of the classic and the unconventional. The various sideshow activities included legal weddings, concerts in the loft space atop Voodoo's duct tape-muraled bathroom and weekly Swahili lessons. Voodoo Doughnut opened its second location in 2008 and as of 2020, has nine locations in five states, most recently opening their second Texas location in the Buffalo Heights neighborhood of Houston. More often than not, the stores have a line not just out the door, but around the block.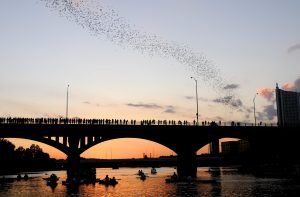 One last thing to check out…
The Bats
austintexas.org/things-to-do/outdoors/bat-watching/
When most people think of Austin, visions of things like tasty taco and musicians performing all over town come to mind. But the city is also known for its love of certain winged nocturnal animals that appear at sunset. Yep, those are the Mexican Free-Tailed Bats.
A 1980 renovation transformed the Congress Avenue Bridge into an ideal bat cave, soon attracting migrating Mexican free-tailed bats. Decades later, Austin's bat numbers have swelled and locals have adopted the beloved creatures as neighbors who happily handle the city's bug mitigation and provide an amazing nightly show.
Starting in late March and continuing through early fall, North America's largest urban bat population calls Austin home. The bats begin to wake up and start their night flight around sunset. The first few bats begin to trickle out from under the bridge then. After the sun sets, the show really begins, and hundreds to thousands of bats pour out and cascade East over Lady Bird Lake.
The best time to witness the bats is around sunset, but the nightly show can take place anywhere from 7:30 to 9:45 p.m. It can take as long as 45 minutes for all of the bats to exit the bridge for the night. Plan to arrive early in order to find parking and get your spot.